| | |
| --- | --- |
| | HVCD Ballroom parties now in their 9th year in the Hudson Valley! |
WHERE: Hudson Valley Dance Depot's New Location: In the back of Freedom Executive Park, 488 Freedom Plains Road, Poughkeepsie, NY 12540
Click For Map
OR WATCH THIS:

WHEN: Saturday, March 28th, 2020, 7:30 - 11pm
COST: $15 at the door.
LESSON/THEME DANCE: ChaCha

BAND: Triad Jazz

After the lesson: the band takes special attention to provide a great mix of dance-able ballroom, swing and latin standards. During the breaks, Joe plays music featuring both classic hits and new songs from a library of diverse artists which is updated regularly. Requests are encouraged: Waltzes, Foxtrots, Tangos (Ballroom and Argentine), Swings (West Coast, Lindy, Jitterbug, Balboas & Charlestons), Cha Chas, Rumbas, Mambos, Salsas, Merengues, Hustles, and Sambas. Joe provides a safe environment where smooth dancers can move around the outside, while rhythm dancers can stay in the center.
Joe also provides a unique "Coaching Corner". During the dance, the basic step to whatever dance is currently up in the rotation is being taught in a corner just off of the main dance floor!
FREQUENTLY ASKED QUESTIONS:
I have two left feet. Is this event really for me?
Yes! First, if you really do have two left feet, then that means I only have to fix one of them! We will make sure to help the newbies feel safe and comfortable dancing at whatever level and amount of actual "floor time" as they are personally comfortable with.
Do you take requests for songs or dances that the band doesn't have in their setlist?
Yes. I will take requests to play between 10:00 - 10:30 during the band's break.
Can I come without a partner?
Yes! We've designed this event to cater to singles, and at least half of the attendees over the past 6 years have been singles. And it is usually very balanced between leaders and followers. (Actually, if the weather is bad, I can almost guarantee we will have a few extra leaders than followers). Plus, we rotate all partners regularly.
I just want to dance with the partner I came with. Is that OK?
We will encourage all couples to rotate during the lesson, but if you want quality time with your significant other, that's totally fine. Just tell us ahead of time. When I announce rotation time during the lesson, the two of you can stay together.
I am a brand new dancer. Will I be expected to dance with advanced dancers?
While we encourage all dancers to dance with everyone else, nobody is under any obligation to dance with anyone specifically, and all dances are voluntary. You are allowed to say "no" to a dance request for any reason. With that being said, all experienced dancers know one thing: they were once beginners themselves, and they know how scary it can be. But we make it a point to create a nurturing environment that is empathetic to the new dancers. We believe that it is the responsibility of an advanced dancer to make this an affirming experience for the new dancer. (They deserve the "time in the field" otherwise, they won't get better, and it won't be fun for them, and they won't keep dancing), At the same time, we ask students not to try to "fix" other people's dancing, no matter how advanced they are -- it is the teacher's job to teach. If something isn't working, please bring it directly to the instructor.
I am an experienced dancer, will there be other experienced dancers attending, or is it just beginners?
Usually, more than half of the typical attendees are experienced dancers, but both experienced dancers and brand new dancers attend. In reality, most people are newbies to some degree, if not in knowledge-base, in technique. If you are an experienced in Swing dancing, but have never done Tango, your skill level during a Tango class might match up perfectly with a brand new dancer.
What kind of shoes do I need?
We have a very smooth floor, so if you are a beginner, light comfortable shoes will work just fine. Ladies should avoid open-toed shoes when learning since they could get their toes stepped on if someone takes a wrong step. If you have leather-soled shoes, they will be smoother than rubber soled-shoes. Flip flops and sandals without a heel strap are bad ideas because they can easily slip off when stepping backwards. And heavy boots can be, well, heavy. (And bowling shoes make great dance shoes!)
Can I bring wine or other snacks?
Yes, but you have to share!
Come and enjoy this great studio space now with live bands!
ALL SKILL LEVELS CATERED TO!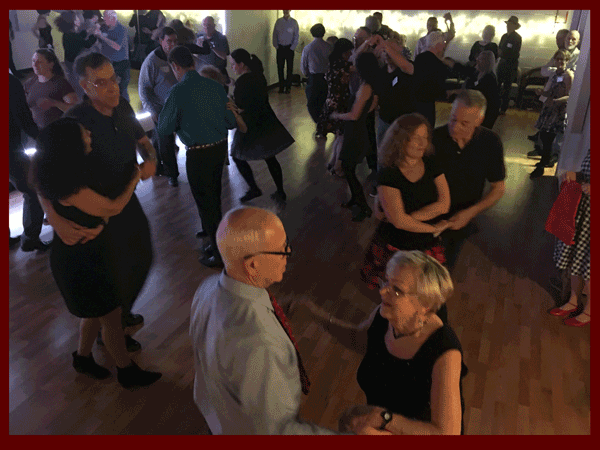 NO PARTNER NECESSARY!
SINGLES AND COUPLES WELCOME!
Footage from our first dance with live music back in 2017:
Willing to help out in some fashion? email me.
We always need a few volunteers!